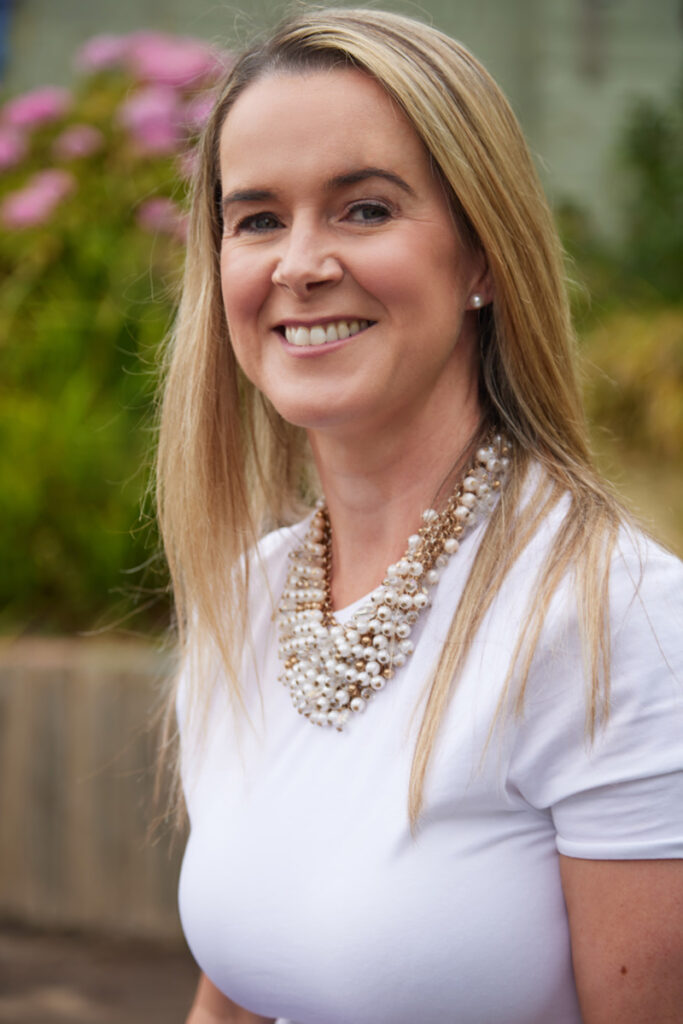 How did you get into millinery?
Well it all started with a wedding. After searching and failing to find a headpiece that I loved, I made my own. This ignited in me a passion for millinery. I've always been creative . From a young age, I began expressing myself through poetry, art and other creative means. This creative streak is in my DNA. My maternal grandfather was a very talented roof thatcher , and he used also make shoes. Both my grandmothers were talented seamstresses, and made clothes for their own family, as well as families less well off . My dad is a builder and talented stone mason. Their creativity and passion inspired me to start my own creative journey.
Why did you establish Panama & Pearl millinery?
The desire to create and my obsession with millinery was unshakeable. However, in 2004, when starting college , the only thing I knew for certain was that I wanted a job where I could help people and make them feel good. Thankfully what I do now combines both of these elements. I work part time as an adoption social worker. I feel very privileged in this role, but also love indulging my creativity and imagination and using my millinery skills to create unique hats and headpieces that make people feel and look amazing.
I began attending workshops in 2016 with highly regarded Irish milliners, and learning traditional millinery techniques. I love seeing how different milliners work, their styles , the materials they choose-to me, its fascinating. I am continually upskilling as I love learning new techniques and working with different materials. It also ensures that my designs are on trend and that my unique and individual style continues to evolve. I am also a long time member of a millinery and business academy in the UK, and have done workshops with esteemed british milliners. I had one of my hats chosen for London Hat week in 2020-a pinch me moment and one I'm very proud of.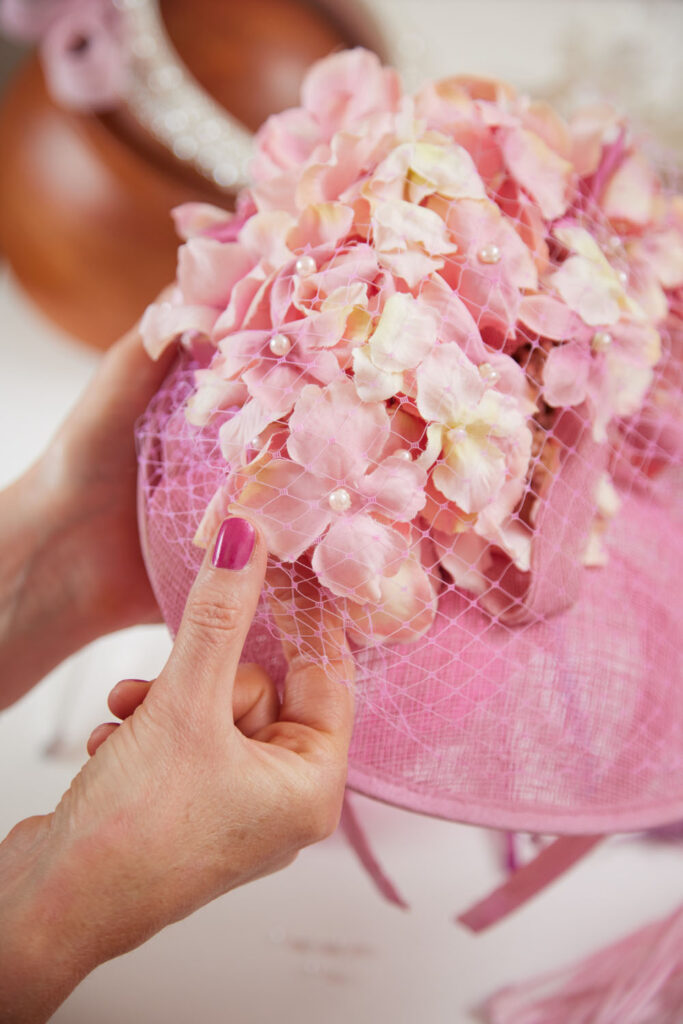 What do you love about millinery?
I have always loved hats and love the drama of a hat/headpiece and the way it can transform a look. I also
love fashion. I believe that a hat is the ultimate style statement, and the right piece can make a person look
and feel a million dollars. In the words of the amazing Philip Treacy " hats make people feel good, and
that's the point of them".I absolutely love collaborating with a client to create a customised piece that
perfectly reflects their personality and personal style,
I also love that millinery incorporates so many different techniques and materials.eg. hand blocking, flower making, beading, wire work … to name just a few! The endless possibilities of what a piece of
material can become, whether its a piece of lace, sinamay, leather, and seeing each piece take shape and evolve into something unique always excites me and fills me with joy. I do believe that "Hats are the Art of the Heart".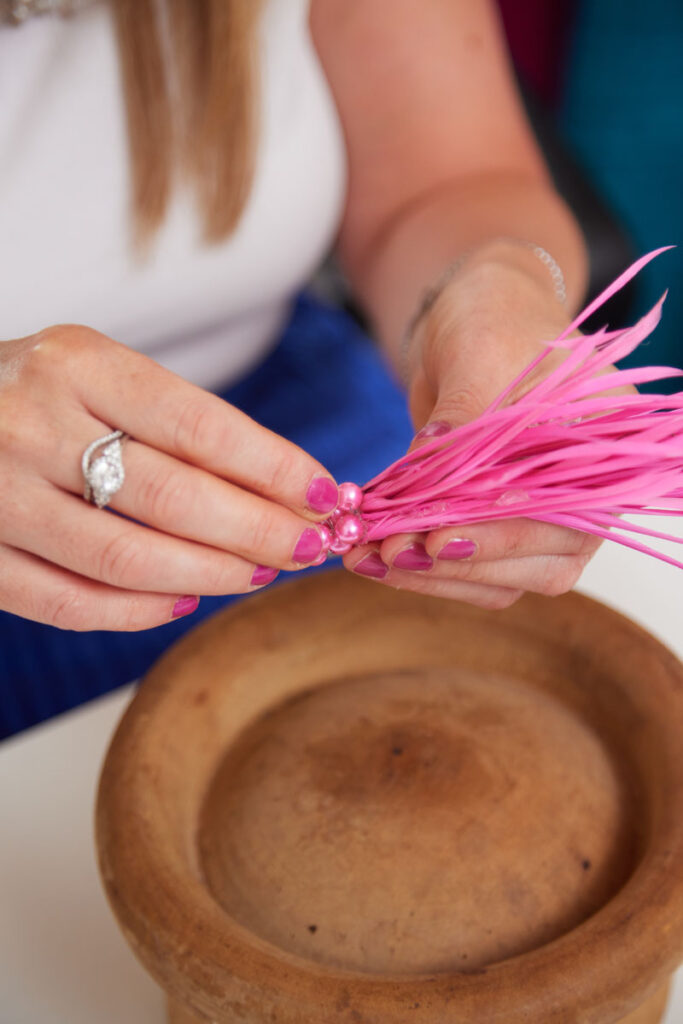 Do you have a sustainability policy?
At Panama & Pearl millinery, we combine our love for creating beautiful, unique statement headwear with a love for the planet. Everything we make is designed in my workshop in Cork. Each unique piece is mindfully and lovingly made to the highest quality. We strive for zero waste. We love the story of garments and fabrics and believe fabrics have memory. We love finding out where they have come from, what is the story behind them, who wore them. Repurposing and upcycling beautiful textiles and vintage fabrics is an integral part of our creative process. We combine them with ethically sourced millinery materials, to create unique pieces that tell a story.
Fabrics and embellishments are purchased in small quantities, and sourced in Ireland where possible, to minimise our carbon footprint and support other Irish businesses. We strive to use sustainable minimal packaging. For the time being, we are using some of the branding materials that we have, as we do not believe in waste. We strongly believe in " reduce/reuse/recycle" . In keeping with our commitment to slow fashion, we decided to ensure that almost all our headpieces can be hired. Our goal is to become a fully sustainable business, and we are committed to making this happen in the near future.
Where do you get your inspiration from?
I am constantly inspired …nature is a huge source of inspiration for me, Some of my designs are inspired by architecture, in particular the art deco era . I also am inspired by fashion, particularly vintage fashion, fabrics and textiles. I have accumulated some vintage hats and headpieces over the years, which can be hired. I also have love of vintage fabrics, lace, pearls, beads and embellishments and enjoy fusing them with modern materials to create headpieces with a unique style. I can custom make a piece ,incorporating a family heirloom, or piece of jewellery, or even a piece of fabric. This is a very popular choice for brides who want a special and unique headpiece , that represents them and tells their story.
I am a big fan of a good inspirational quote. Having a creative mind, which can be hard to switch off, reading an inspirational quote can ground me and make me feel good. This is why each piece that is purchased comes with an inspirational card. I want everyone who opens a Panama and Pearl hat box to immediately feel good, feel inspired and excited. Also, all of my designs have been named after famous inspirational women.
What advise would you give to someone looking to buy/rent a hat?
There is a hat for every head "saying you don't look good in a hat is like saying you don't look good in shoes". There are different rules about face shapes and hat styles, but the main thing is that a hat makes you feel good-hats are about having fun! Hats are also a means for you to express your personality and style so why not get a piece that compliments your personality, represents something about you and makes you exude confidence. Your hat should tell your story. Hats are the Art of the Heart-Panama and Pearl Millinery will create what your heart desires.

I believe that a hat is the ultimate style statement, and the right piece can make a person look and feel a million dollars.